Description
Technical Specification:
Model: CV-215-i
Light power:5W
Wavelength: 430-485nm
Battery: Li-ion
Battery capacity: 1000mAh
Input voltage: AC100-240V, 50/60Hz
Output voltage: DC 5V/1.5A
Net Weight: 280g
Warranty: 1 year
Light power: >1200mw/cm²
Material: stainless steel
Solidification time: 10-40s
Outlook size: 25.7mm*8.7mm*11mm
Operation Conditions:
Storage condition: Temperature: -20℃-55℃
Humidity: 10%~93%
Atmospheric pressure: 70KPa-106Kpa
Environment conditions: Not near from fire equipment or flammability material.
Accessories:
*Curing light Main Unit 1PC
*Charging Base 1PC
*Adapter 1PC
*Light hood 1PC
*Light guide 1PC
*Usage Manual 1PC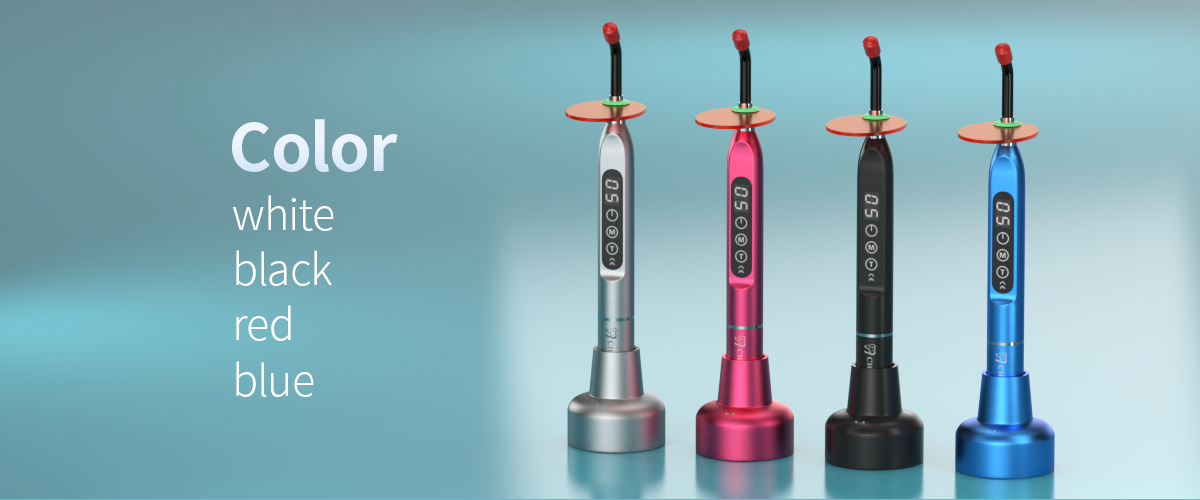 Dental LED Curing Light CV-215/215-i by Cicada Medical is a cutting-edge technology that is used to cure dental composites quickly and efficiently.
The CV-215/215-i comes in two types: wired and wireless. The wired model is best for dental clinics with fixed workspaces, while the wireless model gives you more freedom and mobility. With its sleek design and lightweight body, it is easy to handle and use.
The main difference between the CV-215 and CV-215-i is that the latter has an additional feature of intensity control. With the intensity control, the user can change the amount of power based on how thick the composite layer is. This ensures a thorough and effective cure.
The CV-215/215-i's high-performance LED light source is one of its best features. It gives off a blue light that turns on the photoinitiators in the composite material, which speeds up the curing time. This means that patients can spend less time in the dental chair, and clinics can treat more patients in a day.
The CV-215/215-i can be used for many things, like bonding, filling, and sealing dental restorations. It can also be used with most composite materials, which makes it a useful and versatile tool for any dental clinic.
The sale price range of the CV-215/215-i varies depending on the type and model. The wired model is typically priced at around $300 to $500, while the wireless model can range from $500 to $800. Even though it's expensive, many dentists think it's a good investment because of how well it works and how many uses it has.
Cicada Medical Dental LED Curing Light CV-215/215-i is a reliable, high-tech tool that can help both dentists and their patients. It's a must-have for any modern dental clinic because it has a lot of features, works with other products, and cures quickly.
Cicada Medical offers a range of products for dental care, including the Cicada Light Cure and the Oriol medicine line. Both of these products utilize LED light technology to achieve their intended effects.
The Cicada Light Cure is a gun that uses intense light energy to harden and cure dental materials in place. It is a hand-held tool that can be used in many steps of the dental process, from filling cavities to bonding braces.
Oriol medicine is a powder that is mixed with water to create a paste for use in dental procedures. It is available in both light cure and traditional versions, with the light cure version utilizing the same LED technology as the Cicada Light Cure.
So what is the difference between the two? The main benefit of the light cure version of Oriol is the speed at which it sets, as the LED light speeds up the curing process. The light cure technology also lets the dentist apply the medicine more precisely because he or she can watch the process and make changes as needed.
As for applications, both the Cicada Light Cure and the Oriol medicine line are versatile products that can be used in a variety of dental procedures. They are commonly used in restorative dentistry, orthodontics, and endodontics.
In terms of pricing, the sale price range for Cicada Medical's dental products is typically in the mid-range. The exact cost will depend on the specific product and its features, but customers can expect to pay between $500 and $1,500 for a Cicada Light Cure and between $50 and $200 for a pack of Oriol powder.
Overall, Cicada Medical's dental products offer dentists a number of benefits, such as speed, accuracy, and versatility. With their LED light technology, they are at the forefront of innovation in the dental industry and offer a cost-effective solution for a number of dental procedures.