Dental Composite Curing Light Suppliers
Find here Dental Curing Light exporters & OEM exporters China. Get Contact details & address of companies manufacturing and supplying Dental Curing Light across China.
Buy Dental Composite Curing Light Online At Best Price In China
China's Largest Online Dental Curing Lights Distributed by Trustworthy Vendors (Cicada Medical ).
You can trust that our dental curing lights will speed up the polymerization of any resin-based composite materials used in your dental procedures. Discover a novel and trustworthy blend of security and competence with our extensive collection of dental curing light instruments. Accurate, trustworthy, and highly effective outcomes are to be anticipated.
Composite resins are utilized for a variety of dental procedures, including fillings, inlays, onlays, and veneers, and a dental composite curing light is used to harden or cure these materials. Specifically, it releases light in a narrow wavelength range that causes a chemical reaction in the resin, cementing it to the tooth.
Significance of Curing Light for Dental Composites
The dental composite curing light plays a crucial role in contemporary dentistry because it enables dentists to employ tooth-colored materials that resemble the natural look and function of teeth to repair decaying or damaged teeth. More aesthetically pleasing, stronger bonds, and less pain are just a few of the benefits of composite fillings compared to silver amalgam.
As the use of resin composites and other light-cured materials like sealants and adhesives has increased, so has the need for a dependable and efficient curing light. The dental curing light has become an indispensable tool for modern dental offices. In the past, UV wavelengths were employed, but now LEDs and halogen bulbs are used as the standard for curing lights. Modern dental curing lamps come in both cordless and plug-in varieties, and they provide dentists a wide range of choices in terms of body design, build quality, and, most crucially, the materials that can be cured.
What Types of Curing Light Systems Are Available?
The most common way to classify dental curing lights is according to the wavelengths of light they emit. Blue light at 400–500 nm is used in Halogen Curing Lights, and as these lights create heat, they often come with cooling fans. The use of LED curing lights is rapidly replacing traditional lighting. LEDs are used in these lights because of the broad range of wavelengths they produce, making them suitable for curing a wide range of substrates. They don't become as hot as halogen bulbs do, therefore a cooling fan isn't always necessary. Alternative lighting options for rapid curing include plasma lights. In addition to the various curing lamps available, a variety of curing tips are available for use in order to target certain parts of the mouth and cure specific sizes of restorations. You should also think about the light meter you'll need to keep your curing light at the right frequency.
What Should I Consider When Choosing a Curing Light for My Practice?
When shopping for a dental curing light, it's important to zero in on one that's suitable with the specific restorative materials you use most often. The greatest number of materials can be cured with a light that works at a wide range of wavelengths, but you should still make sure that the light you plan to buy is compatible with the photo-initiators in the materials you want to employ. Consider whether or not a cordless model would be convenient for your work environment in addition to the amount of light the device provides. The shape of the light's body is another factor to think about; popular shapes include pistol grips and wands. To cure restorations in all areas of your patients' mouths, the light you use should feel natural in your hands and be simple to move about. The building itself is the last factor to think about.
How to Choose Dental Composite Curing Light?
Dental composite is one of the best materials for dental restorations because of the rising importance of aesthetics in dentistry. The tooth-colored material is durable and won't fade over time. It's malleable and just needs a narrow wavelength of light to cure properly. Light with a wavelength between 450 and 480 nm is often used for curing. Light in the blue wavelength is used for curing. Perfect repair requires a sufficient depth of curing and intensity of curing. Different types of curing lights may be purchased online. Choosing the most effective curing light for dental composites is crucial. The dentist might use certain parameters to zero down on the most effective curing light for their office. Let's talk about the things that matter while looking for a good curing light.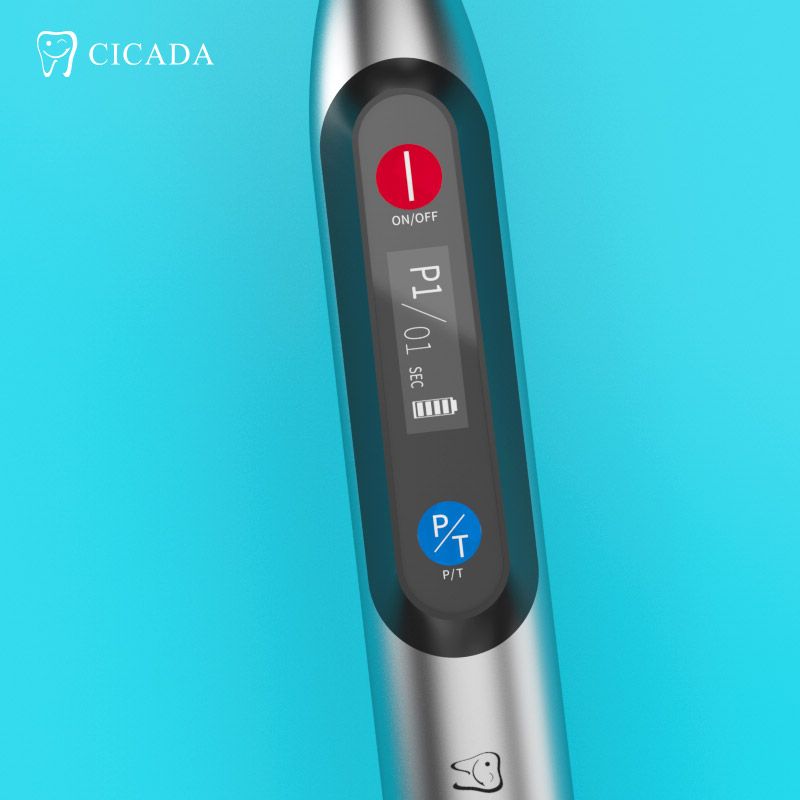 Correct wavelength:
Dental procedures are very sensitive and required a unique set of armamentariums. The wavelength of curing light changes with the procedure type. Dental composite restorations are the most common procedure in dentistry. They required a curing wavelength of above 450 nm. The curing light of a higher wavelength produces more heat and wastes energy. The higher wavelength can't fasten the rate of curing, rather than create reduce the quality of final restoration.
Battery Life:
Mostly curing lights are chargeable. Some have output battery devices. The best curing light should have a long output time and storage ability. It eliminates clinical flaws and ensures the best dental restoration. The batteries that are only chargeable by the manufacturer should be avoided. They give more cost and are not economical for the operator.
Compatible with initiator:
Initiators are chemical compounds used to control the reaction. Chemical cured dental composites don't require curing light but they are difficult to handle and have a long curing time. On the other hand, the photoinitiator used the light of a specific wavelength and carry the chemical reaction. The most commonly used photoinitiations in dental resin are camphor quinone, iodonium salts and electron donors. The curing light or blue light generates the free electrons and radical exchange leads the curing process.
Digital Display:
The digital display helps the operation to evaluate the curing time and set the wavelength. A clear display is making the curing fast and accurate. Polymerization of resin required 20-30 seconds, depending upon the type of composite used.
Easy to Sterilized or disinfect:
Cross infection is the process of the spread of infection in a clinical step. To avoid the unnecessary spread of infection, sterilization and disinfection are necessary. The operator should choose the curing light that can be sterilized without any changes in the material.
Durable and Economical:
Durability and cost are important factors in the selection of curing light. The long-term utilization can damage the instrument or reduce the curing power.
Warranted:
The warranted tools are more reliable and cost-effective. Select the curing light that has some warranty and can be replaced in case of any internal system defect.
Parts of curing light system:
The curing light system consists of following components;
Handle.
Nose cone.
Eyeshield.
Digital screen.
Time and power button
Power module
The curing light's grip is designed to be comfortable in the user's hand. The light source is directed downward by the nose cone before reaching the substrate. The operator's eyes may be negatively impacted by blue curing light. The eyeshield guards against injury to the eyes. There is a digital timer built into the curing light to keep track of how long it has been in use. There is a power module in the rechargeable light that allows it to be charged.
Types of curing light:
Quartz-tungsten-halogen.
The wavelength of the curing light is between 400 and 500 nm, so it generates less heat while still doing its job. Quartz-tungsten-halogen bulbs may produce anywhere from 400 to 1200 mW/cm2 of light.
Light-emitting diode
LED light curing equipment generates no heat since it emits light in the visible blue range between 440 and 490 nm. This means that LED lights don't need any special filters.
Plasma arc curing
Plasma is created when a xenon gas within PAC light-curing machines is ionized. In order to reduce heat and focus the output on the violet-blue portion of the visible spectrum, the high-intensity white light is filtered (400–500 nm).
Argon laser units
Initiators, such camphor quinone (CQ), absorb the right wavelength of light to set off the chemical reactions in light-activated dental materials (approximately 470 nm for CQ).
Lights for Dental Curing Get a Quote from Light Manufacturers Who Sell Dental Composites (Cicada Medical ). Learn Who to Call and the Total Cost to Supply Dental Curing Light in China.
Care for Dental Composite Curing Lights
A. Importance of Regular Maintenance
When properly cared for, the dental composite curing light will work at its best for a much longer period of time. The device's curing effectiveness, light intensity, and lifespan might all suffer from a lack of routine maintenance.
B. Maintenance Tips for Dental Composite Curing Light
Always use a disinfectant spray and a soft cloth to clean the curing light after each usage.
Make sure the battery and charger are in good operating order by testing them on a regular basis.
adjust the intensity of the curing light so that it meets the specifications set out in the manual.
The light bulbs should be changed as they burn out or as directed by the manufacturer.
For points 5 and 6, keep the curing light out of the sun and at a consistent temperature.
An Overview of Dental Composite Curing Light
A dental composite curing lamp is a crucial piece of equipment in contemporary dentistry, since it enables dentists to use tooth-colored composite resins for dental restorations. LED, halogen, and plasma arc lamps are the three most common kinds of curing lights. The curing time, energy efficiency, and cost are all considerations to consider while deciding on a curing light. The efficiency and lifespan of the curing light depend on regular servicing.
Contact Cicada Medical now if you are a dentist in need of high-quality dental composite curing lights.
What is a dental curing light?
Light curing of a dental filling material A dental curing light is a piece of dental equipment that is used for polymerization of light-cure resin-based composites. It can be used on several different dental materials that are curable by light. The light used falls under the visible blue light spectrum.
What is the difference between chemical cured and photo-initiated dental composites?
Chemical cured dental composites don't require curing light but they are difficult to handle and have a long curing time. On the other hand, the photo-initiator used the light of a specific wavelength and carry the chemical reaction. The most commonly used photoinitiations in dental resin are camphor quinone, iodonium salts and electron donors.
What makes a good curing light?
The most popular curing lights today are now using LED technology. This allows the lights to run on a battery charge which eliminates the need for a cord and provides greater freedom of movement while you are working. Because the LED's are small, the lights themselves have slimmed down, and these sleeker designs make them more comfortable to hold.