Description
| | |
| --- | --- |
| Model Number | CV/DX E16 |
| Max Rotation speed | 20,000R.P.M |
| Function | endodontic treatment |
| Air pressure | 0.3MKPa |
| Gear Ratio | 16:1 |
| Bur Type | Ø1.59-1.6mm CA Bur |
| Chuck type | Push button |
| Bearing | Ceramic bearing |
| Light Way | Without light |
| Water Spray Type | 0.08-0.20MPa (0.8-2.0kgf/cm) |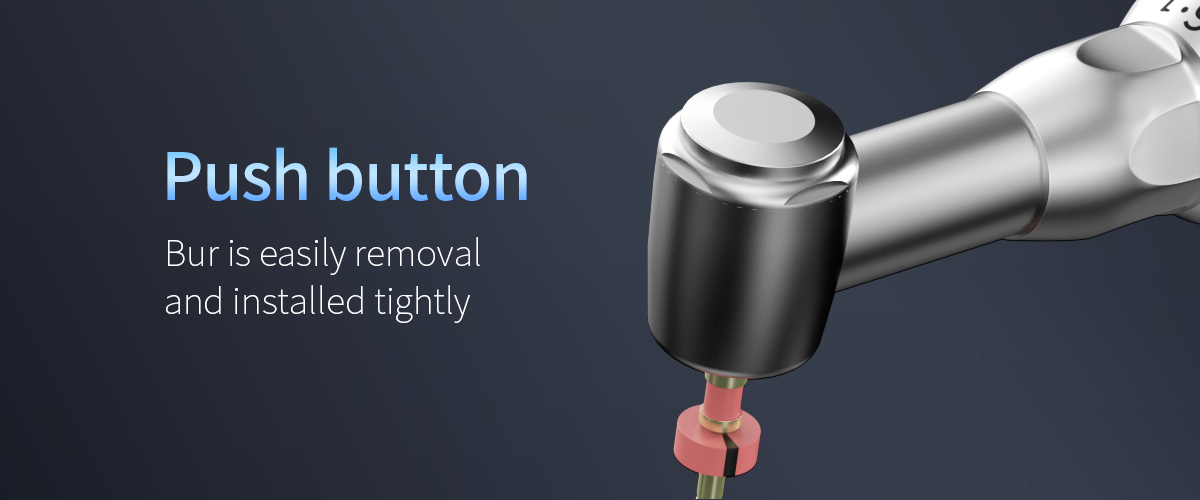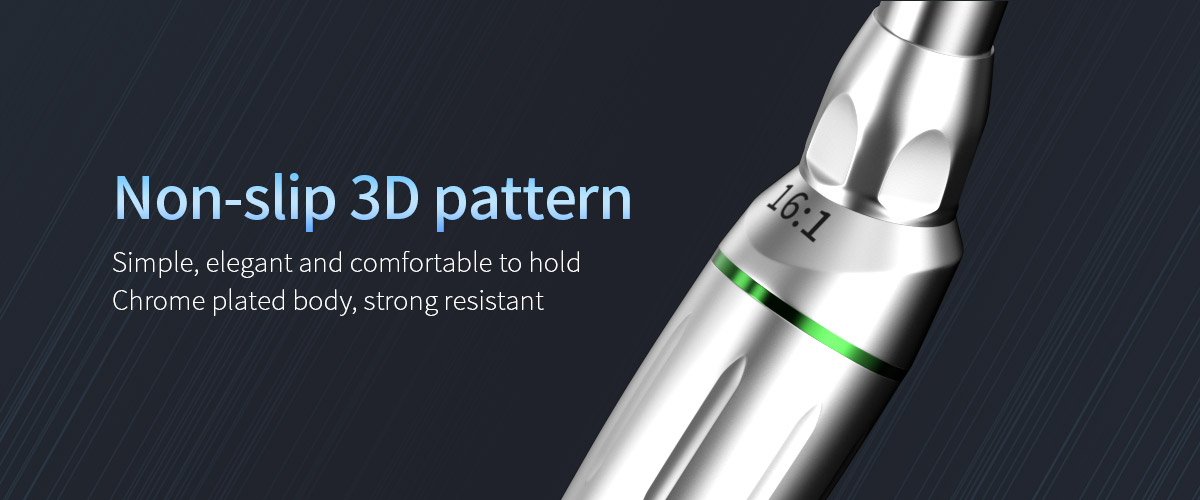 At Cicada Medical, we're proud to introduce our Dental Reduction Speed Handpiece 16:1 CV-DX E16. This state-of-the-art dental tool is designed to provide the utmost efficiency and precision in endodontic treatments, ensuring the best possible care for your patients.
Key Features
Push Button Type: The CV-DX E16 features a push-button type design, making it easy to operate and control.
External Irrigation: This feature ensures a clean and sterile working environment during dental procedures.
Ceramic Bearings and Steel Gear: The use of high-quality materials guarantees durability and longevity.
Classic Design: The CV-DX E16 boasts a classic design that provides good stability and soft noise, enhancing the patient's comfort during treatment.
E-Type Connector Compatibility: The handpiece fits into all E-Type Connectors, offering efficient compatibility.
4/2 Hole Connector: This feature further enhances the handpiece's compatibility.
Specifications
The Dental Reduction Speed Handpiece 16:1 CV-DX E16 comes with the following specifications:
Model Number: CV/DX E16
Max Rotation Speed: 20,000R.P.M
Function: Endodontic treatment
Air Pressure: 0.3MKPa
Gear Ratio: 16:1
Bur Type: Ø1.59-1.6mm CA Bur
Chuck Type: Push button
Bearing: Ceramic bearing
Light Way: Without light
Water Spray Type: 0.08-0.20MPa (0.8-2.0kgf/cm)
Why Choose Cicada Medical?
Cicada Medical is a leading dental equipment supplier, recognized as a pioneer in the China marketplace. We offer a wide range of international dental equipment that meets global standards. Our products range from Dental Endodontic tools, Led Curing Lights, Dental Low Speed Handpieces, to Dental High Speed Handpieces with LED and Dental Composite Curing Light Suppliers.
At Cicada Medical, we're committed to delivering the best quality products directly to your clinic. Choose Cicada Medical for your dental equipment needs and experience the difference in quality and service.
Conclusion
The Dental Reduction Speed Handpiece 16:1 CV-DX E16 is a testament to Cicada Medical's commitment to providing top-notch dental equipment. With its advanced features and high-quality construction, it's a valuable addition to any dental practice. Don't miss out on this opportunity to enhance your dental procedures. Contact us today to learn more about our products and services.
Remember, at Cicada Medical, we're not just about selling products; we're about creating solutions that make a difference in dental care.