In the complex and highly specialized world of dentistry, the right tools are not just an advantage but a necessity. The quality of care a dentist can provide is often directly proportional to the quality of instruments they use. This is where Cicada Medical comes into play, a leading provider of dental surgical equipment globally. This article aims to guide you through the essential dental surgical instruments offered by Cicada Medical, emphasizing their high-quality, precision, and customer service excellence.
The Comprehensive Range of Cicada Dental Instruments
High-Quality Handpieces for Precision Work
Introduction to Handpieces:
When it comes to dental surgical handpieces, Cicada Medical stands out as a leading provider of dental surgical equipment. Designed for both high speed and precision, these handpieces are crucial for a wide range of dental surgical procedures, from drilling to shaping the tooth.
Types of Handpieces:
High-Speed Handpieces: These are the go-to tools for the removal of tooth decay and other procedures that require speed. They often come with high-speed turbines for effective performance.

Low-Speed Handpieces: These are primarily used for polishing and finishing work, offering low speed but high precision.
Key Features:
Brushless Motors: These ensure low noise and vibration, providing a more comfortable experience for both the dentist and the patient.

LED Dental Lights: Integrated for better visibility during procedures, these lights are a part of Cicada's dental fiber optic technology.

Free Shipping: Available on selected models, because we value our users and their convenience.
Endo Motors and Apex Locators for Root Canal Procedures
Introduction to Endo Motors:
Endo motors are specialized dental instruments used in dentistry, particularly for root canal procedures. Cicada Medical's endo motors are not just tools; they are technological marvels equipped with color screens and apex locators for precise treatment.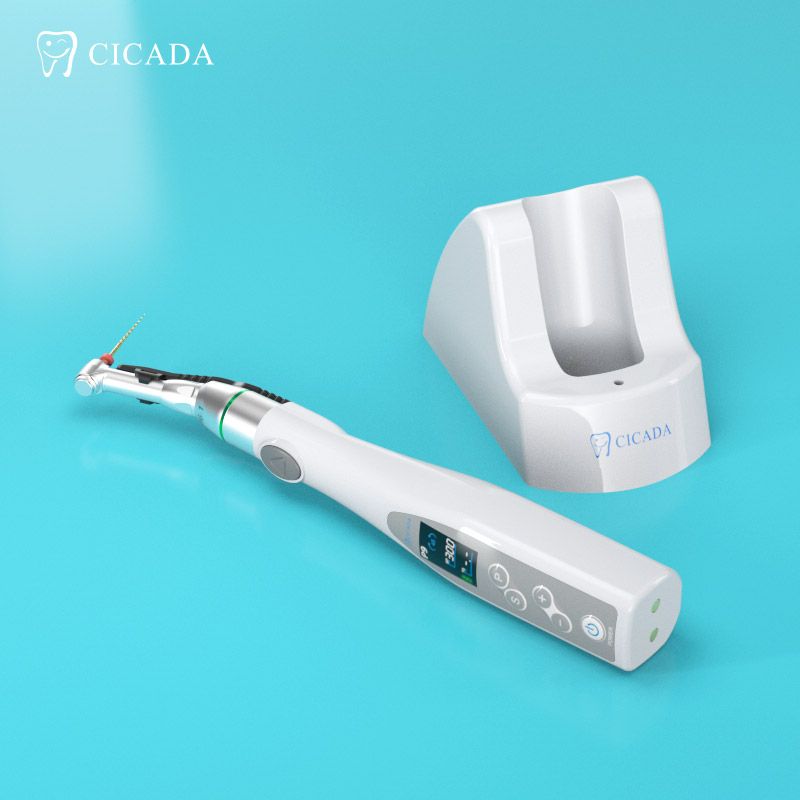 Why Choose Cicada's Endo Motors:
High-Quality Material: Made from medical-grade materials, ensuring durability and safety.

Precision: Equipped with advanced features like endodontic motors for accurate measurements and effective root canal procedures.

Customer Service: Our 24/7 customer support is always ready to assist with any technical issues, making us a high-quality dental supply provider.
Dental Chairs and Units for Maximum Comfort
Introduction to Dental Chairs:
A dental chair is not merely a seat; it's a central piece of equipment in any dental clinic. Cicada Medical offers ergonomically designed dental chairs that prioritize comfort for both dentists and patients.
Features and Benefits:
Adjustable Heights: These chairs offer better ergonomics, allowing for height adjustments to suit individual needs.

Built-in Scalers and Curettes: These instruments are used for various dental procedures, offering convenience and efficiency.

Electrical Adjustments: For ease of use, the chairs come with electrical adjustment features, making them user-friendly.
Why Choose Cicada Medical for Your Dental Equipment Needs
Customer Service Excellence: More Than Just a Buzzword
24/7 Support:
At Cicada Medical, excellent customer service isn't just a phrase; it's a commitment. Our 24/7 support ensures that you're never alone when facing challenges, whether it's a technical issue with a high-speed handpiece or a question about endodontic files.
Next Order Discounts:
Loyalty is highly valued at Cicada Medical. Our next order discounts and promotional offers are designed to reward repeat customers, making us a high-quality dental supply choice for many dental equipment manufacturers and clinics.
Global Reach and Free Shipping: A World of Dental Excellence at Your Doorstep
International Dental Supplier:
Cicada Medical isn't just a local entity; we have a global reach. As an international dental supplier, we provide a wide range of instruments used in dentistry, from dental handpieces to dental curing lights, to clinics worldwide.
Free Shipping:
We offer free shipping on all orders above a certain amount. This ensures that you receive your dental products without any additional costs, making us a preferred dental equipment manufacturer for many.
Hot Products and Promotions: Your One-Stop Shop for Dental Innovations
Monthly Offers:
Keep an eye out for our hot products and monthly promotions. Whether you're looking for dental electric equipment or oral care products, our offers are designed to provide the best value for your investment.
Bulk Discounts:
We understand the needs of dental clinics and educational institutions. That's why we offer special bulk discounts, allowing you to equip your practice with a wide range of products, from low-speed handpieces to endodontic motors, at a fraction of the cost.
Ensuring the Right Tools for Every Dental Procedure
Dental Implants and the Importance of High-Speed Handpieces
Why High-Speed Handpieces:
In the realm of dental implants, the high-speed handpiece is not just a tool; it's a game-changer. These handpieces offer high torque and stability, essential for the precise placement of dental implants. Cicada Medical's high-speed handpieces are engineered to meet these exacting standards, making us a high-quality choice for dental professionals.
Dental Surgery and the Role of Forceps
Forceps in Surgery:
Dental forceps are indispensable when it comes to tooth extractions. Cicada Medical offers a wide range of surgical forceps to meet various surgical needs, from simple extractions to more complex oral surgeries. Our forceps are designed to provide optimal grip and leverage, ensuring that each placement is as smooth and pain-free as possible.
Dental Procedures and the Use of Scalers
Scalers for Dental Health:
Dental scalers are not just tools; they are an essential part of preventive dental care. Used for plaque removal, these instruments play a crucial role in preventing gum disease and caries. Cicada Medical's scalers are designed for both efficiency and comfort, offering wireless options for greater maneuverability.
Summary
In the realm of dental equipment, Cicada Medical stands out as a high-quality manufacturer. From handpieces to endo motors, their range of dental surgical instruments is designed to offer precision and stability. Investing in the right tools is not just a purchase; it's a commitment to high-quality dental care.