Description
| | |
| --- | --- |
| Rotation speed | less than 10,000rpm |
| Working air pressure | 0.22-0.3Mpa |
| Cooling water | inner water sprays |
| Bur applicable size | CA 2.35mm |
| Ratio | 4:1 |
| light source | fiber optic |
| Spray | Single water spray |
| Chuck bur | push button |
| Bearing | ceramic bearing |
| available connection | E-type international standard |
| Noise | less than 65 dB |
| Disinfection | Autoclave to 135 ℃ |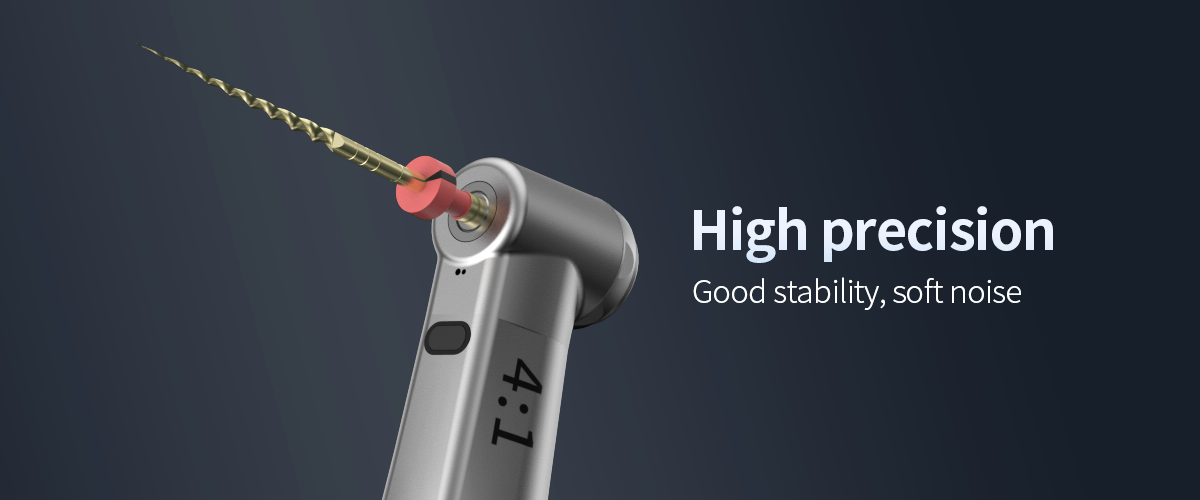 At Cicada Medical, we are proud to introduce our latest innovation in dental technology – the Dental Internal Water Spray Handpiece 4:1. This state-of-the-art dental handpiece is designed to provide optimal performance, comfort, and efficiency for dental professionals and their patients.
Key Features
The Dental Internal Water Spray Handpiece 4:1 is packed with features that make it a standout choice for dental practitioners. Here are some of the key features:
Rotation Speed: The handpiece operates at a rotation speed of less than 10,000rpm, ensuring precise control during dental procedures.
Working Air Pressure: It functions at a working air pressure of 0.22-0.3Mpa, providing optimal performance.
Cooling Water: The handpiece features an internal water spray system, which helps in preventing iatrogenic damage due to frictional heat.
Bur Applicable Size: The handpiece is compatible with a CA 2.35mm bur size.
Ratio: The handpiece operates at a 4:1 ratio, providing the perfect balance of speed and torque.
Light Source: The handpiece is equipped with a fiber optic light source, enhancing visibility during procedures.
Spray: The handpiece features a single water spray, ensuring effective cooling.
Chuck Bur: The handpiece uses a push-button chuck bur, allowing for easy and quick bur changes.
Bearing: The handpiece is fitted with a ceramic bearing, ensuring durability and longevity.
Available Connection: The handpiece is designed with an E-type international standard connection, making it compatible with various dental equipment.
Noise: The handpiece operates at less than 65 dB, ensuring a quiet and comfortable environment for both the dentist and the patient.
Disinfection: The handpiece can be autoclaved to 135 ℃, ensuring thorough sterilization and patient safety.
Why Choose Our Dental Internal Water Spray Handpiece 4:1?
Choosing the right dental handpiece can be a daunting task, but our Dental Internal Water Spray Handpiece 4:1 makes the decision easy. Here's why:
Versatility: Whether you're performing a routine dental cleaning or a more complex procedure, our handpiece is designed to handle a wide range of dental tasks.
Durability: Our handpiece is built to last, with a robust construction and high-quality materials.
Ease of Use: With its ergonomic design and intuitive features, our handpiece is easy to use, reducing hand fatigue and increasing efficiency.
Safety: Our handpiece is designed with patient safety in mind. The internal water spray system helps to prevent overheating, while the autoclavable design ensures thorough sterilization.
Conclusion
At Cicada Medical, we are committed to providing dental professionals with the tools they need to deliver the best possible care to their patients. Our Dental Internal Water Spray Handpiece 4:1 is just one example of our commitment to quality, innovation, and excellence.
To learn more about our range of dental products, visit our Dental Supply Distributor page. For more information on our Dental Internal Water Spray Handpiece 4:1, visit our product page.
Remember, a good handpiece is an investment in your practice and your patients' health. Choose wisely, choose Cicada Medical.