Description
| | |
| --- | --- |
| Product name | 1:1 Contra Angle Latch Type Handpiece |
| cartridge | EX series |
| Max speed | 25,000 min/rpm |
| Power Source | Turbine |
| Noise | ≤65 dB |
| Bur applicable | 2.35 mm |
| Connector | E-type |
| Chuck type | Latch type |
| Water spray | external water spray |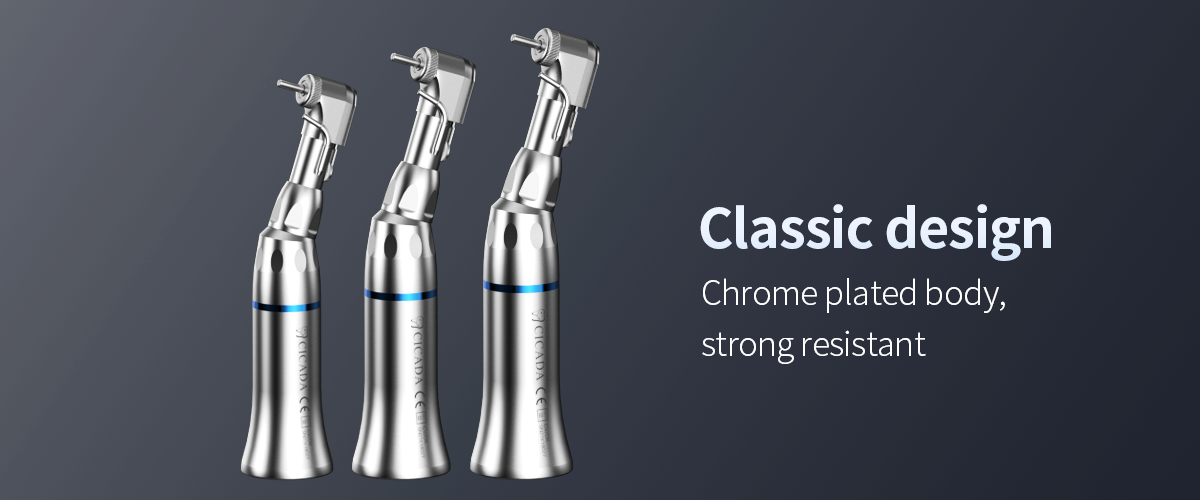 The Dental Low Speed Contra Angle Latch Type Handpiece, a product of Cicada Medical, is a top-tier dental tool designed to provide a seamless and efficient dental procedure experience. This handpiece is characterized by its latch type design, which allows for easy removal and secure installation of burs.
Key Features
Latch Type Design: This feature ensures that the bur is easily removable and installed tightly.
Smooth Surface Design: The handpiece boasts a smooth surface design, which not only enhances its aesthetic appeal but also ensures reliable quality.
Chrome Plated Body: The body of the handpiece is chrome-plated, making it strong and resistant.
Ceramic Bearings and Steel Gear: These components contribute to the handpiece's power, quiet operation, and large torque.
Mini Head: The mini head provides a clear vision, enhancing precision during dental procedures.
Power Source: The handpiece is powered by a turbine.
Noise Level: The noise level of the handpiece is ≤65 dB, ensuring a comfortable environment for both the dentist and the patient.
Bur Applicable: The handpiece is compatible with a 2.35 mm bur.
Connector: The handpiece features an E-type connector.
Chuck Type: The chuck type of the handpiece is a latch type.
Water Spray: The handpiece comes with an external water spray feature.
Why Choose Cicada Medical?
Cicada Medical is a leading dental equipment supplier recognized as a pioneer in the China marketplace. They offer a wide range of international dental equipment that meets global standards. Whether you're looking for Dental Endodontic tools, Led Curing Light, Dental Surgical instruments, or Dental Air Turbines, Cicada Medical has got you covered.
Conclusion
The Dental Low Speed Contra Angle Latch Type Handpiece is a testament to Cicada Medical's commitment to providing high-quality dental equipment. Its unique features and design make it a must-have tool for any dental professional. So, why wait? Enquire now and elevate your dental practice with Cicada Medical's top-notch dental equipment.